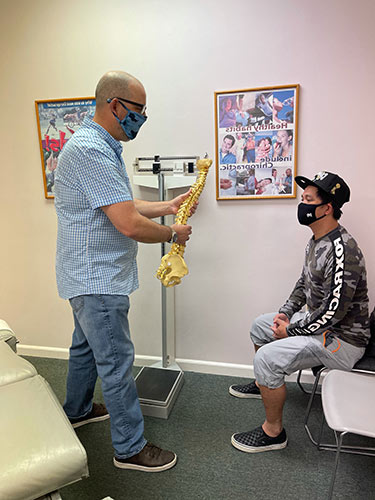 Chiropractic is the art, science, and philosophy of locating, detecting, and assisting with the correction of spinal misalignment (abnormal motion and position) of the spinal bones (vertebrae) also known as vertebral subluxation.
These misalignments can affect the nerves, surrounding muscles, and even the internal organs of your body.
Although other methods are used at times to get the patient in a relaxed state, the primary method of correcting these spinal misalignments is a procedure called a chiropractic adjustment.
The Chiropractic Adjustment is done either by hand or with an adjusting instrument by applying steady pressure, stretching and often an applied push or thrust to release the stuck or immobile muscles, ligaments, bones and tendons.
When this procedure is performed, it frees the movement of the spine and takes pressure off your nerves and body so that you can heal properly.
Actually, chiropractic is a way for your body to be as strong and healthy as it can be naturally.
OFFICE HOURS
---
Monday
11:00am - 7:00pm

---
Tuesday
CLOSED
---
Wednesday
11:00am - 7:00pm
---
Thursday
CLOSED
---
Friday
11:00am - 7:00pm
---
Saturday
11:00am - 1:30pm